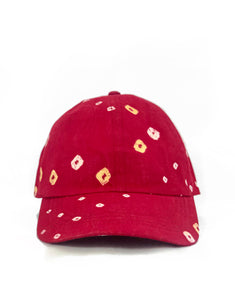 Streetwear meets Indian heritage artisanship. These unique Inshadycompany baseball caps are made using cotton fabric that's hand-dyed in Gujarat, using a traditional tie-dye technique called Bandhani. We love this traditional red hue, the color most associated with traditional Bandhani Textiles. In Indian culture, red symbolizes wealth, power, fertility, and sensuality, and is present in many forms to mark important life transitions.
This special art form can be traced back to the Indus Valley civilization, as early as 4000 BC! Today's skilled artisan communities that continue to practice the craft are most concentrated in India's Kutch region, a district within the state of Gujarat (located in the western part of India). Bandhani's origin story revolves around wearing particular patterns to identify with a particular community, and historically these dyed textiles were worn to bring good luck to the lives of newly weds. Today, it's still a popular choice of attire for celebratory events, but is also considered appropriate for any type of occasion. 
Whether you pair this with neutrals (we love a white T-shirt or all black hoodie set), or take it up a notch with a pattern on pattern look, it's sure to garner head turns.

Inshadycompany is an accessories label founded by Sonia Luthria. The company offers limited collections using Indian textiles, and the products are crafted and finished in Mumbai. We love the creative risks that Sonia takes - she embraces bold color combinations and isn't afraid to put unexpected patterns together. To us, her unapologetically unique designs are not just a fun aesthetic, but an attitude that we strive towards.
Variation is a part of the charm of hand-made products, telling the story and giving the mark of the creators who craft them. Due to the hand-made nature of the product, no two hats are exactly the same.
TECHNICAL INFORMATION
Cotton fabric
Adjustable velcro strap

Hand-dyed in Gujarat, India

Hand wash with cold water