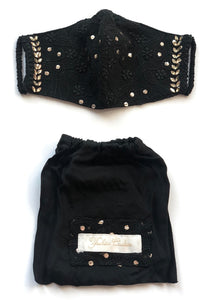 This stunning face mask is is hand-embroidered by artisans using the Chikankari technique, a one-of-a-kind art form that requires mastery of a variety of stitching styles. The Chikankari craft originated and is concentrated in Lucknow, India, where the mask was made and where Yoshita Couture, the designer brand behind the piece, is based.
The Chikankari thread embroidery is embellished with Mukaish work, another Lucknow-based artisan technique where strips of metallic wire are skillfully twisted and inserted into fabric to accent the stitched embroidery. The resulting effect is a subtle yet striking glimmer that catches the light with each movement.
We call this color-way Mumbai Nights, inspired by the glittery lights and festive atmosphere during a night out in Mumbai, India's city of dreams. The mask comes with its own pouch to store in when not in use.
Variation is a part of the charm of hand-made products, telling the story and giving the mark of the creators who craft them. Due to the hand-made nature of the product, no two masks are exactly the same.
TECHNICAL DETAILS
Triple-layered (3-ply fabric)
Adjustable nose clamp
Soft cotton lining for comfort
Hand-washable
We do not accept returns or exchanges for face masks as these are considered a personal-use item.