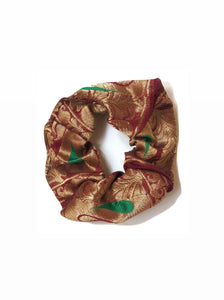 Our opulent scrunchie features a beautiful dark red color with a striking gold leaf paisley design and fresh green accents woven in. The textile craft technique here is Chanderi Brocade, produced by taking cotton yarn and weaving in silk and Zari, a traditional gold metallic thread, for a lustrous finish. Chanderi textiles were a favorite among Mughal empresses for their delicate shimmer and rich look.

These scrunchies are our first SHAI-designed product, repurposed from surplus sari material to eliminate waste.
--
Variation is a part of the charm of hand-made products, telling the story and giving the mark of the creators who craft them. Due to the hand-made nature of the product, no two scrunchies are exactly the same.
TECHNICAL INFORMATION
Hand-stitched

Limited Edition

Hand wash with cold water
We do not accept returns or exchanges for scrunchies as these are considered a personal-use item.